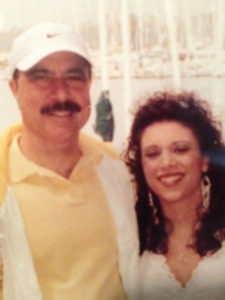 Dr. Frank A. La Batto was born in Brooklyn, New York. After having his first out-of-body experience (OBE) at 18 years of age, he became curious, read books, attended many programs at The Monroe Institute©, developed abilities in conscious expansion, rescued souls who transitioned to the other side, and worked on many levels in the non-physical. Though not being born with the natural gift of accessing the other side, he has become aware through his personal life-journey the reality of the continuum of life on all planes of existence. The ability to access the other side as real and normal is a gift we all possess as part of our essential birthright and is readily available to all.
His training at NYU College of Arts and Sciences and NYU College of Dentistry led him to work with world famous prosthodontist, Dr. Maurice Saklad. Dr. La Batto assisted Dr. Saklad with many famous celebrities in the 1980's, including Frank Sinatra, Greta Garbo, Olivia Newton John, Vice President Spiro T. Agnew, David Brenner and Willie Mays.
Dr. La Batto then did a two-year fellowship in Surgical Orthodontics at the Institute of Reconstructive Plastic Surgery at NYU Medical Center. Here he worked with children born with severe facial deformities under the guidance of Dr. Barry Grayson and Dr. Joseph McCarthy. He published a paper in The American Journal of Orthodontics on Basilar Cephalometric Analysis.
Dr. La Batto developed a specialized practice in dentistry for 33 years in Bay Ridge, Brooklyn.  He combined his training in dentistry with his devotion to conscious expansion and healing and created a practice that treated patients of all ages suffering from extreme fear and anxiety, especially those wounded by prior dental experiences. He intuitively understood he worked in the sacred space between the Throat and Third Eye Chakras. This allowed him to not only heal the patient physically, but also work with the patient in healing past life imprints that manifested itself in the human condition. Dr. La Batto knew the patients that sought him out were in need of more than just dental treatment.
Dr. La Batto volunteered for three years in the Child Life Clinic at Robert Wood Johnson University Hospital in New Jersey, not as a doctor, but as an everyday person doing what he does best: making children laugh, playing video games, giving out ice cream and candy, visiting those children too sick to get out of bed, and preparing their parents for the eventual transition their children would undertake.
Dr. La Batto has a variety of interests. He plays the piano, paints in oil, and does impersonations and comedy routines he developed when he was 13 years old. He comes from a middle class family and had to deal with the tragic loss of many family members at a very young age.
He held a variety of jobs growing up; paperboy, dishwasher, cashier, clothing salesman, working in a corrugated box factory, a travel agent with Circle Travel Service, and manager of McDonald's. He ran track in grammar school and high school winning many medals. He went back to give his time as a track coach to young children at his grammar school for many years.
Dr. La Batto most cherishes the time spent with Linda in the 27 years of her physical presence on Earth; experiencing and knowing the true love between a father and his daughter.
Linda made her transition on May 7th, 2012. He now engages with Linda in the non-physical a relationship free from the distractions of human existence. Incarnated in the same Earth Life Cycle as twin souls, something very rare and sacred when not born as identical twins, Linda works with him in both the physical and non-physical as their journeys intertwine. Linda vibrates in the highest level in the light. She helps many people in the physical and many souls who have transitioned to the non-physical.
Dr. La Batto shares with us the experiences given to him by Linda and proves that the gifts our loved ones, especially our children, present to us are real, normal, and natural. They are our teachers, guides, and angels in the light.  Our children want us to live, laugh, and love. By doing so, we honor the courage and sacrifice they made before entering this physical life.  Pure unconditional love is what we are here to learn. It heals the tragedy, the wounds, the pain, the sadness, the anger of the physical separation we all experience when we lose a child or loved one.
Dr. La Batto resides on Long Island with his wife Susan, her daughter Annie, and their two cats and one dog.